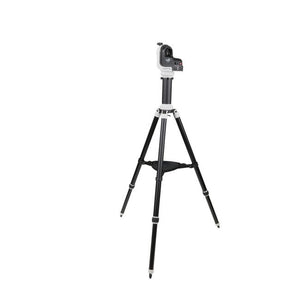 If you select SkyWatcher Free Shipping when checking out, this product will ship directly from the manufacturer and will not come from our stock.
Overview
Multi-purpose alt-azimuth mount
Adjustable height aluminum tripod with 1.25" legs
11 pound payload capacity
SynScan Go To telescope mount with 42,900 object+ database
Built-in WiFi
Controlled with SynScan Pro app for iOS and Android
Freedom Find dual encoder technology
DC operation (batteries not included)
Description
Perfect for any Situation
Sky-Watcher's AZ-GTi is the perfect tracking platform for those seeking a compact travel mount capable of both Alt-Az Go-To alignment and video timelapse. Boasting a payload capacity of 11lbs, this modular AZ mount can support anything from a small Maksutov or refractor, to a mid-sized DSLR for time-lapse photography. Weighing just 8.6 lbs, the AZ-GTi is the ideal travel mount, easily fitting in carry-on luggage and perfect for grab-and-go situations.
Revolutionary WiFi Control
The AZ-GTi is one of the first Sky-Watcher products featuring built in WiFi control. Once connected to the mount, use Sky-Watcher's SynScan Pro app to align the mount for celestial tracking or the SynScan PTZ app for timelapse photography.
Easy Integration with any Tripod
The AZ-GTi includes an adjustable aluminium tripod with built in pier extension. The mount can attach to a tripod using a 3.8"-16 thread and includes an adapter for ¼"-20 thread sizes, making it capable of mounting to nearly any tripod.
Automatic Shutter Release Control
No need for an intervelometer timer with the AZ-GTi! With a 60-second preset exposure setting, the AZ-GTi can trigger a DSLR using the auxiliary shutter release cable. Once the camera is plugged into the mount and a shot is fired, it will continually shoot 60 second exposures until the cable is removed.
Available in three configurations
Available in three configurations − mount set only, with a 102mm Maksutov OTA, or with a 127mm OTA − the AZ-GTi delivers the perfect grab-and-go system for the astronomer that's on the move.
The AZ-GTi come with the mount head, pier extension and tripod.
Specifications
SKU
S21110
General Mount Info
Mount Type
Alt-AZ/EQ
GoTo
Yes
Payload Capacity (lbs)
11
Mount Height (Min)
31.6"
Mount Height (Max)
59.8"
Mount Head Weight (lbs)
2.6
Tripod Weight (lbs)
7.9
Fully Assembled Weight (w/ weights)
10.5
Tripod Leg Diameter
1.2"
Mounting Saddle Type
V
Power Type
AA/12V
Clutch
Slip
Polar Scope
No
Latitude Range (degrees)
0-90
Computer/Drive System Info
Object Database
App Data base
Controller
WiFi
WiFi
Yes
Polar Align Assist
Yes
Auto Guide
No
Dual Encoders
Yes
DSLR Enterface
Yes
Motor Type
Stepper
Drive System
Gear

Buy risk-free: When it's time to trade up you'll get the most value for your used gear.