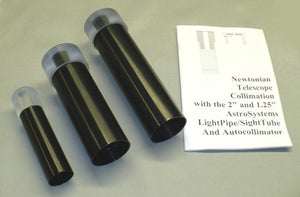 Our Take
It's important to have well-collimated optics in order to get the best possible performance out of your telescope. This kit combines two indispensable tools: The LightPipe/SightTube for general alignment and an Autocollimator for fine tweaks. When using these in combination, you can align your Newtonian telescope to perfection.
Description
This unique and innovative collimator combines the LightPipe with the SightTube into one easier to use, lower-cost tool. The LightPipe functions just like a Cheshire collimator, but with two important differences. First, the acrylic lightpipe will not darken or corrode with time, like the aluminum reflector used on a Cheshire. Second, the lightpipe is non-directional to illuminate. When using a flashlight at night to illuminate the tool, any angle works, unlike the temperamental Cheshire. The 2-in-1 collimator accurately aligns optics in Newtonian telescopes (LightPipe) as well as accurately aligning the secondary mirror under the focuser (SightTube). The 2" version is easier to use in telescopes having a long focal length of (70"+) and proportionately larger secondary mirrors. The shorter body LightPipe is perfect to collimate shorter f/ratio telescopes or imaging telescopes (f/3-f/4). Save time and money with this 2 in 1 tool. Precision-made anodized aluminum, acrylic insert and stainless steel crosshair wires. Includes 14 page instruction booklet.

Buy risk-free: When it's time to trade up you'll get the most value for your used gear.