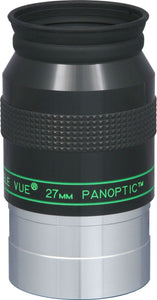 Description
Housed in a 2" barrel like the 35mm, the 27mm is lighter & smaller. It's perfect for any telescope size, type or speed, where a little more magnification is desired, yet still allows full field viewing with eyeglasses. For example, with the Tele Vue-85, it gives 22x and a true field of 2.9 degrees!
The Televue Wide-Field design was the starting point for the design of the Panoptic. A lens interface between the eyepiece and Barlow lens was added as a way to keep size, weight, and cost to a minimum while improving edge of field performance even further.
Standard on all Panoptics
multi-coatings
blackened lens edges
filter threads
rubber grip rings
cover for the eyeguard
an undercut in the barrel for extra locking security
Specifications
27-mm
Model #
EPO-27.0
Focal Length (mm)
27
Barrel Size (in.)
2"
Apparent Field of View (deg.)
68
Eye Relief (mm)
19
Weight (lb / oz)
1.03 / 16.4
Field Stop (mm)
30.5

Buy risk-free: When it's time to trade up you'll get the most value for your used gear.