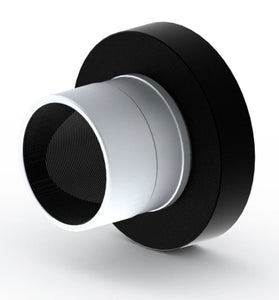 1.25" threaded nosepiece adapter for SolarMax III 10mm or 15mm blocking filters
Allows connection of your 2" SolarMax III Blocking filter to a 1.25" focuser
Useful for telescopes that only have a 1.25" focuser, not 2"
Note: this adapter CANNOT be used with a BF30 blocking filter
Details
The Coronado SolarMax III blocking filters come standard with a long 2" diameter nosepiece. This 1.25" threaded adapter converts the 2" blocking filter to a 1.25" nosepiece so the blocking filter can be used with 1.25" focusers. Simply unthread the 2" nosepiece and thread the 1.25" adapter onto the blocking filter. Includes threaded M45x0.75 threaded connection to attach to the #624015 or #624016 Coronado blocking filter.
Note: The BF30 blocking filter utilizes several filters that are internal to the 2" nosepiece section. Therefore, this adapter CANNOT be used with the Coronado 30mm blocking filter. Do not attempt to use the BF30 diagonal without its included 2" nosepiece present.
Designed and Manufactured in North America.

Buy risk-free: When it's time to trade up you'll get the most value for your used gear.