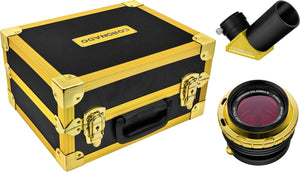 Hydrogen-alpha filter set including the 90mm SolarMax III Etalon with 15mm Blocking filter (BF)
Narrow 0.7 Angstrom bandpass ideal for viewing prominences on the solar limb
External front mounted etalon for use on your high-quality telescope
Padded hard case included to protect your investment
Requires third-party adapter to connect etalon to front of your scope.
Details
This Coronado SolarMax III 90mm Solar Filter set with RichView tuning system includes a 90mm diameter primary Hydrogen-alpha etalon filter with sub 0.7 angstrom bandwidth and 15mm Blocking Filter (BF) packed in a hard case to protect your investment.
The 90mm etalon includes Meade's patented RichView tuning which allows direct tuning of the etalon filter. The RichView tuning system adjusts the distance between the etalons parallel glass plates in order to achieve the perfect wavelength bandpass for the feature you are observing, all while maintaining precise optical alignment. Coronado's patented technology allows the etalon to be used at high altitude observing locations. The RichView system simply allows for better control over your H-a bandpass window. In addition to RichView tuning, the included T-Max Tuner allows you to tune in the brightest image and remove any internal reflections. Combined, the RichView and T-Max together offer unparalleled image tuning to get the best possible view of solar details!
The kit also includes a Coronado 15mm right angle Hydrogen-alpha blocking filter, now in the SolarMax III design. This updated design includes a long 2" diameter nosepiece with 1.25" eyepiece holder and t-thread connection. The blocking filter is the second element in any Coronado H-alpha system, and is just as crucial to your safety and the system's performance as the primary SolarMax etalon filter. This blocking filter CANNOT be used without a SolarMax etalon. This is a secondary interference filter for full disc image of the Sun for telescopes up to 1,500mm focal length. It can also be used with 1.25" focusers by purchasing the Coronado 1.25" adapter #624018. The BF15 provides a larger unvignetted field of view compared with the smaller BF10 model.
Coronado filters are used around the world by serious solar enthusiasts and professional research facilities alike. When properly and safely mounted on your high-quality refractor or other suitable telescope this filter set allows observation and imaging of the amazing and ever-changing surface detail and prominences on the Sun in hydrogen-alpha light. Not for use on truss-tube telescopes with open sides as unfiltered sunlight may be transmitted through the optical tube. Custom mounting of the etalon to your optical tube will be required. End-users will be required to contract a third party company to machine any necessary adapters (adapters not included).
The stunning bright red views through a Coronado Ha telescope display astounding surface and limb detail. Features such as prominence, filaments, plages, and surface granulation are fascinating to observe, and many of these features can change shape over the course of days or even just hours in the case of flares and edge prominences.
Designed and Manufactured in North America.

Buy risk-free: When it's time to trade up you'll get the most value for your used gear.