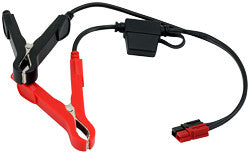 Description
Expand the versatility of your mount.  This alligator clip power cable adapter enables you to power your mount from a car or a deep-cycle marine battery (deep-cycle batteries are recommended).  Equipped with Anderson Power Poles, as used with the CP4 power cable, you can connect directly to battery terminals.  Includes 7.5 amp in line ATC fuse.
Don't feel restrained...grab your battery and mount and head to a dark sky site!

Buy risk-free: When it's time to trade up you'll get the most value for your used gear.