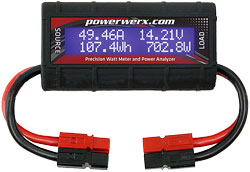 Description
This easy to use meter is ideal for monitoring eight electrical parameters that are essential to electric power safety and performance: Amps, Volts, Watts, Amp-hours, Watt-hours, Peak Amps, Minimum Volts (Sag), and Peak Watts. It connects via Anderson Powerpoles and can be easily installed inline on the CP4 power cable. Its high contrast blue backlit display and auto reset feature make this a very useful watt meter and power analyzer. 
Features:
Amps (Current) & Peak Amps – Peak amps show if excessive amps are being drawn:  The Amps (A) value displayed shows the average current over the last screen refresh. The Peak Amps value (Ap) displays the maximum current drawn since the meter's last startup.
Voltage & Minimum Volts – Confirm that the desired voltage is being delivered & if battery is low voltage:  The displayed Volts (V) value is the average voltage from the last screen refresh. The displayed Minimum Volts (Vm) value is the minimum voltage or "sag" measured on the source side, since the meter's last startup.
Amp-hours (Charge) – Estimate how much battery will be needed:  The displayed value is the total charge delivered in Amp-hours since the meter's last startup. It is measured from the load side for the most accurate results.
Specifications
Voltage:

 

0 ~ 60V, 0.01 V resolution (5 to 60V without optional auxiliary power connector)
Amps:

 

1 ~ 130A, 0.01 A resolution (50A continuous, 130A peak)
Watts:

 

0 ~ 7800W, 0.1 W resolution
Amp-hours:

 

0 ~ 65Ah, 0.001 Ah resolution
Watt-hours:

 

0 ~ 6554Wh, 0.1 Wh resolution
Display:

 

High-contrast blue backlit LCD display
Size:

 

3.3 x 1.7 x 1.0" (85 x 42 x 24mm)
Weight:

 

0.18 lbs. (82 g)
Warranty:

 

1 Year Limited Warranty

Buy risk-free: When it's time to trade up you'll get the most value for your used gear.