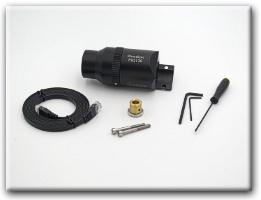 Description
The #19767 DirectSync FSQ130 motor with built-in clutch mechanism and temperature sensor allows both manual and motorized control with a simple twist of the motor housing.

Designed especially for the Takahashi FSQ-130ED large Dual-Speed focusers, the DirectSync FSQ130 features simple installation and an elegant design. The DirectSync motors are fully compatible with the FocusLynx Control Hub making DirectSync the very best choice for motorizing Takahashi's premier astrograph telescope.

This version requires the external Optec FocusLynx controller.
For more add on accessories including the FocusLynx Controller, Hand Controller, and WiFi see the FocusLynx Accessories.
Specifications
Motor:  35mm Nippon stepper motor with 50:1 gearhead,
Material:  6061 aluminum, anodized black,
Length:  3.75" (96mm)
Width:  1.9" (49mm)
Weight: 11.6 oz (330 g)
Tools Required:  1/16" and 3mm hex keys (included)
Motor Cable:    Standard Cat-5e or Cat-6 (6-ft. length included)
Connection to FocusLynx:  Focuser 1 or Focuser 2 port- RJ45 socket

Buy risk-free: When it's time to trade up you'll get the most value for your used gear.