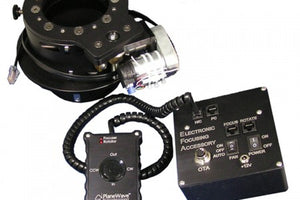 Description
EFA Kit (Electronic Focus Accessory):  The EFA Kit automates focusing (on optional Hedrick focuser),  monitors temperature  (on optional Delta T Dew Heater), and controls fans built-in to CDK telescopes. 
The EFA control box can be  mounted to the back plate of any CDK telescope.  The EFA Kit plugs into the temperature sensors and fan control wires that come standard with each telescope.  A Hand Control is provided to control a optional Focuser or Rotator when standing at the eyepiece.  The EFA kit comes with PlaneWave Interface (PWI), a software package that controls all external devices from a PC.  All the cables are provided to attach the EFA kit to a PC.  The EFA kit is ASCOM compatible.

Buy risk-free: When it's time to trade up you'll get the most value for your used gear.