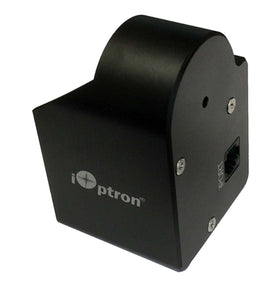 Pre-Order Now
Description
This iOptron Electric Focuser (eFocuser) is designed for iOptron PhotronTM Ritchey-Chrétien (RC) telescope dual-speed focuser. Now you can focus the telescope by pushing a hand controller button. It is compatible with most iOptron later version mounts. 

This Electric Focuser will also fit other RC scopes such as GSO, TPO (from OPT), Astro-Tech (from Astronomics), and Orion. It may work with other RC scopes use the similar dual-speed focuser. 


Specifications
Whisper quiet operation
Powerful stepper motor
Zero backlash
Plug into iOptron Port with no external power source needed
3 speed control by a compatible iOptron hand controller
ASCOM compliant (coming soon...)

Currently supported mount (with latest HC firmware):

CEM25/CEM25P/CEM25EC
CEM60/CEM60EC
iEQ30 Pro
iEQ45 Pro

Buy risk-free: When it's time to trade up you'll get the most value for your used gear.