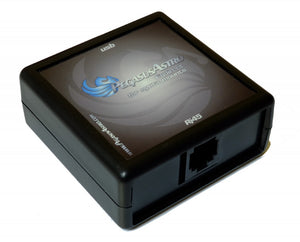 Overview
Our compact EQDir Bluetooth Adapter for EQMOD allows direct connection of Skywatcher HEQ5 Syntrek/PRO, NEQ6 Syntrek/PRO, AZ EQ6-GT and EQ8 mounts to your Bluetooth 2.1 supported PC or laptop. With this adapter you can remote control your Skywatcher mount directly via PC. No handbox controller is needed and the device is perfect for remote observatories
Description
Bluetooth Module
The device uses a bluetooth module. This chip is fully compatible and functional with Windows XP, 7 , 8, 10, OSX, Linux. There is no need to install external drivers as Windows Update will install the latest bluetooth driver. Just plug it in your PC and associate bluetooth device..
Led indication
A red LED (operation indicator) exists on the side of the device. It will turn on when the device is plugged in the equatorial mount.
EQDIR adapter can use both cables (adapter included in DB9 model)
Choose the appropriate model (DB9 or RJ45) for your mount model. You can use the same device in both of your mounts. Just attach the RJ45 to DB9 adapter.
Compact size
66 x 66 x 28 mm
Specifications
In the Box
| | |
| --- | --- |
| EQDir Bluetooth Adapter Device | |
| Cable RJ45 to DB9 or RJ45 to RJ45 | |

Technical Specifications
Mount Connector
RJ45 Socket
Bluetooth Specs (Bluetooth Model)
Bluetooth v2.1 version
Name / ID: PA-EQDIR-XXXX  (Where XXXX the unique identifier of the device) , Baud rate: 9600 , Pairing code / password: 1234

 

Effective distance of operation: 10 meters

Cable to mount
RJ45 to RJ45 or RJ45 to DB9
Dimensions
66 mm x 66 mm x 28 mm
Mount Compatibility 
RJ45 Cable type
Skywatcher HEQ5
Skywatcher AZ-HEQ5
Skywatcher AZ-EQ6
Skywatcher EQ6-R
Skywatcher EQ8
Skywatcher EQ6-R Pro
DB9 Cable type
Skywatcher EQ6
Skywatcher NEQ6
Documentation

Buy risk-free: When it's time to trade up you'll get the most value for your used gear.