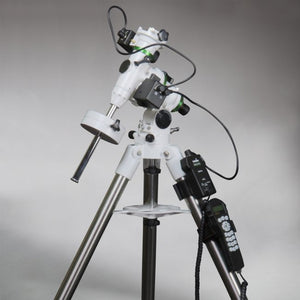 If you select SkyWatcher Free Shipping when checking out, this product will ship directly from the manufacturer and will not come from our stock.
Description
The Sky-Watcher EQM-35 provides a convenient, stable platform for refractors up to 100mm or up to 127mm Maksutovs. Designed as an imaging system, it also works astonoshingly well for visual use. This mount is perfect for the beginner as well as the more advanced astronomer.
The removable dec assembly allows for the use of Star Adventurer L-brackets or ball head adapters, turning the mount into a heavy duty tracking system.
If what you're looking for is a lightweight, stable mount that is precise and easy to use, the EQM-35 is the mount you're looking for.
Specifications
| | |
| --- | --- |
| Mount Type | EQ |
| Tripod | Adjustable height, steel tripod legs |
| Power Type | DC11~16V 4A |
| Motor Type | 1.8° Hybrid Stepper Motor |
| Slew Speeds | 1000x, 800x, 600x, 400x, 200x, 32x, 16x, 8x, 2x, 1x |
| Tracking Rates | Sidereal, Lunar, Solar |
| Tracking Modes | Dual or single axis tracking |
| Alignment Procedures | One-, two- and three-star Alignment |
| Computer Hand Control | SynScan hand controller, flash upgradeable OR SynScan Pro app with Wi-Fi adapter |
| Database | Complete Messier, NGC, IC and SAO catalogs, 25 user-defined objects, total 42,900+ objects |
| Mounting Saddle Type | V-Style |
| Fully Assembled Weight (with weights) | 22.7 pounds |
| Payload Capacity (lbs) | 22 pounds |

Buy risk-free: When it's time to trade up you'll get the most value for your used gear.