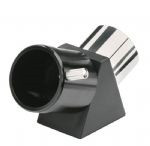 Description
Most telescopes are designed for astronomical viewing, and come with a star diagonal that will flip the image. While this is fine for the sky surfing, it is preferred to see terrestrial objects, such as birds, in their correct orientation. This Erect Prism Diagonal accomplishes this image correction and, at the same time, places the eyepiece at a convenient 45-degree viewing angle.

It will fit most 1.25" focusers and will accept eyepieces with 1.25" barrels.

Features
Image orientation is upright and corrected from left to right
45º for comfort viewing
Designed for 1.25" focusers or adapters
One year limited warranty

Buy risk-free: When it's time to trade up you'll get the most value for your used gear.