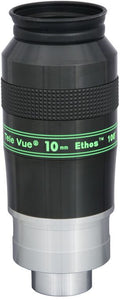 Description
Introduced at the 2007 Northeast Astronomy Forum (NEAF), Tele Vue once again broadened the amateur astronomer's perspective on the universe with: 100° of pure TeleVue quality. The field area of this eyepiece is more than 50% larger than the 82° field of the Nagler eyepiece design. The Tele Vue Ethos is essentially multiple eyepieces, delivering the true field size of a longer focal length, narrower apparent field eyepiece with the benefits of higher power and darker sky background.
The 10mm Ethos is a member of the logical set of 17mm/10mm/6mm. It is par focal with the 13mm Ethos and it's 59mm rubber grip diameter makes this model usable in binocular viewers (for most people).
Specifications
10-mm
Model #
ETH-10.0
Focal Length (mm)
10
Barrel Size (in.)
2" & 1¼"
Apparent Field of View (deg.)
100
Eye Relief (mm)
15
Weight (lb / oz)
1.10 / 17.6
Field Stop (mm)
17.7

Buy risk-free: When it's time to trade up you'll get the most value for your used gear.