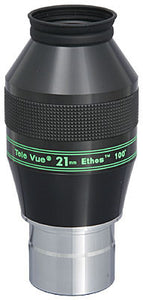 Description
Introduced at the 2007 Northeast Astronomy Forum (NEAF), Tele Vue once again broadened the amateur astronomer's perspective on the universe with: 100° of pure TeleVue quality. The field area of this eyepiece is more than 50% larger than the 82° field of the Nagler eyepiece design. The Tele Vue Ethos is essentially multiple eyepieces, delivering the true field size of a longer focal length, narrower apparent field eyepiece with the benefits of higher power and darker sky background.
The 21mm focal length completes the logical set of 21mm/13mm/8mm and nicely juxtaposes the 17mm/10mm/6mm combination. Each step within these two sets approaches a 3x field area gain. The 21mm's effective field stop diameter is 36.2mm, bringing its true field close to the 35mm Panoptic (38.7mm Field Stop diameter). Its true field is also larger than the 26mm Nagler with its 35mm effective field stop diameter. In an f/4 Dobsonian, the exit pupil is just 5.25mm using the 21mm Ethos instead of 8.75mm with a 35mm Panoptic, or 6.5mm with a 26mm Nagler.

Buy risk-free: When it's time to trade up you'll get the most value for your used gear.