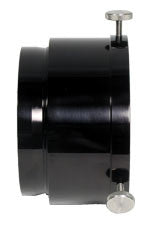 Description
This accessory provides 2.2" of extension with an overall length of 3". It is typically used in lieu of a diagonal when straight-through viewing is desired. The extension features our brass locking ring and two large thumbscrews. Slip it into the drawtube of the Giant 4" Focuser, then insert one of our 4" to 2.7" adapters or any other accessory that you produce. The ID of the extension is 4.3", the same as our 4" focuser drawtube. Note the tapered barrel of the focuser end. This tapered profile assures a secure connection as the brass ring of the drawtube grabs the taper at the narrow diameter.
This extension is provided when the 4" Focuser is shipped on our refractors, however we offer it as a separate item when the 4" focuser is purchased separately.
This part was previously sold as S40FOCUET. We simplified the part number, but the design itself is unchanged.
This extension has a net spacing distance of 2.2" (55.9 mm).

Buy risk-free: When it's time to trade up you'll get the most value for your used gear.