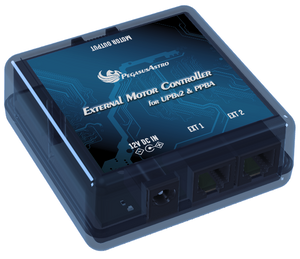 Overview
The external motor controller was designed to expand the focus capabilities of the Ultimate Powerbox v2 (supports a 2nd focus controller) and adds focus functionality to the Pocket Powerbox Advance. The device does not require a USB cable and can be attached directly to the EXT port of the Powerboxes. It can drive a large bipolar or unipolar stepper motor with high precision.
Description
Microstepping
Controller support micro-stepping which can be configured via software to Full / Half/ 1/4 step and 1/8 step. This provides additional precision and a smooth rotation from the stepper motor.
Supported Motors
We have successfully tested and controlled the following stepper motors:
Pegasus Motor Focus
Starlight HSM 25 / 30 / 35
Starlight MSM 25 / 30 / 35
Starizona Micro-Touch
Starlight PDMS (Posi Drive Motor System)
Rigel nStep Motors
Moonlite Stepper Motor
Robofocus Stepper Motor
Please note that each motor requires its own cable due to different pin-out selection of each manufacturer.
No USB port is required
You do not have to occupy a USB port as the controller does not require a USB connectivity. Just plug the RJ12 port into the EXT port and the controller will be recognized from the powerbox software. Simple as that!
Second EXT port available
A second EXT port allows you to daisy chain future equipment or connect your environmental sensor.
Protections
The controller is fully protected against undervoltage, overcurrent, and overtemperature events.
Specifications
| | |
| --- | --- |
| Supply Voltage | 12V DC Preferred. Accepts 8.2-V to 24V – depends of the motor |
| Drive Current | 1.6Amps per motor coil |
| Motor Compatibility | Unipolar and Bipolar Stepper Motors |
| Motor Output | RJ45 Socket |
| Connectivity | RJ12 Socket (Straight RJ12 to RJ12 cable) up to meters |
| Power Input Connector | 2.1mm Centre Positive Socket |
| Dimensions | 66mm x 66mm x 28 mm |

Buy risk-free: When it's time to trade up you'll get the most value for your used gear.