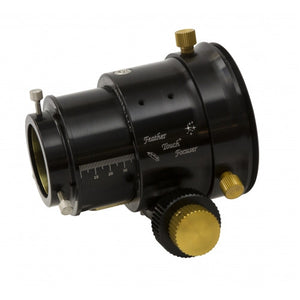 Feather Touch® 3.0" Diameter - Dual Speed Telescope Focuser with 1.5" Draw tube travel Brake, Integral TFPE Coupled 109mm Threaded Collar, and 2.0" Diameter Compression Ring with End Cap Upgrade.
Focuser is compatible with the following scopes:
Sky-Watcher Esprit 80 mm 
Sky-Watcher Esprit 100 mm
Celestron C11/C14
Also fits the following scopes (call for these configurations):
Meade 10"/12"/14"/16"
RCOS Telescopes
AT 10"/12" RC Telescopes
Please select the proper tube adapter ring and end cap that you will need to attach your Feathertouch focuser.  If you need a Finder Scope Bracket, in the drop down box please pick the one that you want.  If you do not need one, please pick the not interested box.

Buy risk-free: When it's time to trade up you'll get the most value for your used gear.