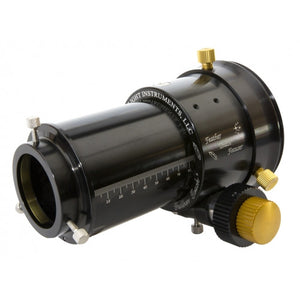 Feather Touch® 3.0" Diameter - Dual Speed Telescope Focuser, 3.5" Draw tube travel, Brake, Integral TFPE Coupled Collar, and 2.0" Diameter Compression Ring with End Cap Upgrade.
Focuser is compatible with the following scopes:
Sky-Watcher Esprit 120 mm
Sky-Watcher Esprit 150 mm
Explore Scientific 102 mm (Aluminum or Carbon Fiber)
Explore Scientific 127 mm (Aluminum or Carbon Fiber)
Also fits the following scopes (call for these configurations):
Select Takahashi, Astro-Physics, William Optics, TMB, United Optics, and Orion telescopes.
Please select the proper tube adapter ring and end cap that you will need for your Feathertouch focuser.  If you need a Finder Scope Bracket, in the drop down box please pick the one that you want.  If you do not need one, please pick the "none" option.

Buy risk-free: When it's time to trade up you'll get the most value for your used gear.