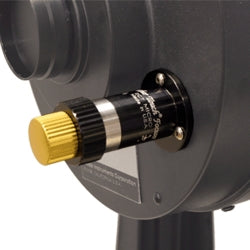 Description
Feather Touch® Micro for Meade 8.0" Schmidt-Cassegrain Telescope (including LX90, LX200GPS and LX200 Classics, Meade 7" LX200GPS, Meade LX50 and Meade 7" Maksutov.  
Will not fit the LXD55.  Meade 8" LS90 Microfocuser body will need to be modified.  Please let us know if you have this model scope and we will modify the focuser body.
If you have one of the following telescopes: 6" LX80, LS8-ACF, LT8-ACF, LT8-SC and LS8-SC please measure the flange of your stock focuser knob because these scopes have been shipped from Meade with 2 different sized focuser flanges.  The smaller flange that Meade uses is 38mm.
Specifications
| | |
| --- | --- |
| Known To Fit | Meade 8" LX90, LX200GPS, LX200 Classic SCT and Meade 7" Maksutov |
| Reduction Ratio | 10:1 |

Buy risk-free: When it's time to trade up you'll get the most value for your used gear.