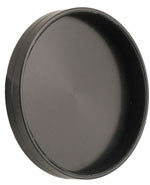 Description
This aluminum cover is felted along its inside edge. Order it to replace a red plastic plug or a cover that has been lost or damaged. Depending on your storage needs, it may also be used as a slip-on cover for any accessory with a 3.9" outer diameter, including the 2.7" to 6x7 Outer Bayonet Adapter (ADA2767).
If you purchased a 2.7" field flattener that included red plastic plugs, this cover is available as part of a set along with the threaded cover you will need for the other side of your flattener. Review our information above regarding the Cover Set for Astro-Physics 2.7" Field Flatteners (CSET27FF). It is included with all new field flattener purchases, so there is no need to purchase any covers if you are ordering a flattener.
Please note that this cover should be gently pulled to remove it from your field flattener and not "unthreaded." While attempting to unthread it, you will actually be unthreading the bayonet lock ring from the field flattener body.

Buy risk-free: When it's time to trade up you'll get the most value for your used gear.