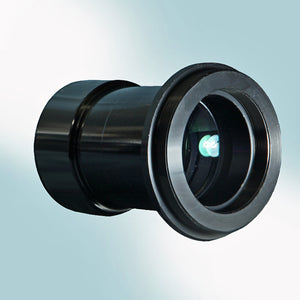 Description
Dedicated APS sized f-7 field flattener for use with either the Feather Touch 2.5" focuser or the new Stellarvue 2.5" dual speed focuser. This is the flattener for imaging with APS sized and smaller chips when used with any of our telescopes that use the 2.5" focuser. Attach your DSLR to the t-thread on the flattener using a camera t-ring and you are ready to go. 
The Importance of proper spacing: The photographic field flattener must be placed at a precise distance from the camera's internal ccd sensor. If the spacing is incorrect, the performance will be compromised. Our stock flatteners are made to work with DSLR cameras. The distance from the t-ring to the internal ccd sensor on a DSLR camera is about 55 mm. This distance from the thread on the front of the camera to the sensor is also known as its "backfocus."
 Non DSLR (ccd astro cameras) are not made to the same specifications. The distance from the thread on the front of the camera to the chip varies and if often much less than 55 mm.  
 If the distance from the camera's chip to the front thread is less than 55 mm, you must purchase threaded extension tube(s) and/or spacer rings in order to maintain a distance of 55 mm from the back of the field flattener to the cameras sensor. This field flattener has a standard M42 X .75 t-thread attachment
There is a better alternative to using standard 42 mm t-thread extensions. We recommend using our 48 mm extensions as they are less likely to cause vignetting. Stellarvue offers a complete 48 mm extension system. We have extension tubes and spacer rings in the 48 mm size. 
These extension tubes and/or spacer rings can be placed between the lens and extension on this field flattener as shown:
Example: If your CCD camera has a backfocus of 34 mm. This is 21 mm shorter than the required distance from the field flattener to the chip. To compensate for this, unthread the field flattener as shown in the image immediately above. Insert a 20 mm extension tube and a 1 mm spacer ring here. Now your field flattener is optimized for your particular camera! You can find the backfocus of your camera on the manufacturers website. If it is not there, call them. 

Buy risk-free: When it's time to trade up you'll get the most value for your used gear.