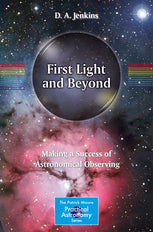 Description
Amateur astronomers who have been disappointed by the results of an observing session can take comfort in the guidance of this book, which advises how to still gain useful experience in seemingly "failed" nights at the telescope. In a world with imperfect seeing conditions, incredible observing sessions are often mixed with less inspiring ones, discouraging the amateur observer. This book is designed to minimize subsequent disappointment for astronomers who encounter a few bad observing sessions, helping novice observers take something worthwhile away each and every time they go out under the night sky, regardless of the observations that were originally planned.
Almost every observer remembers his first sight of ringed Saturn, hanging in the blackness of space. Practitioners agree that there is something special about visual observing. Real-time observations at the eyepiece can provide fleeting yet intense feelings that connect us with the universe in unique ways. But when expectations aren't met at the eyepiece, there are other ways to profit from the practice of astronomy. These rewards, though less showy, are well worth cultivating.
This is a book that will help the reader see what constitutes a "successful" visual observing session. It explains the nature of the objects that the observer is seeing and advises how best to use their equipment. There are many hints and tips about how best to locate, recall, and record observations, including suggestions for
trips to areas where there are dark skies and to public observatories. Amateur astronomy is a journey from the urban backyard all the way to dark rural skies, and with this guide the journey can be smooth.
D. A. Jenkins, the writer, has had a passion for writing since his teen years, when he resolved to produce a body of work that would both satisfy the needs of readers and his passion to create. Since then he has written business material for several large institutions, organizations, and individual clients, and has also created various short fictional works. He studied financial planning at the University of St. Thomas in Houston, Texas, and has a broad array of professional experience that includes being a classical piano teacher. However, it is his enthusiasm for the night sky that has continued to fuel his passion for astronomy across four decades. 
Jenkins has been an enthusiastic amateur astronomer since childhood, with a special interest in deep sky observing. He resides in Texas, where he enjoys observing celestial phenomena in the pristine dark skies of the Davis Mountains, along with many other locations. He thoroughly enjoys astronomy outreach activities such as sharing stunning telescopic sights with people at star parties. Jenkins is a member of the Austin Astronomical Society (www.austinastro.org) and also observes regularly with the North Houston Astronomy Club. 

Buy risk-free: When it's time to trade up you'll get the most value for your used gear.