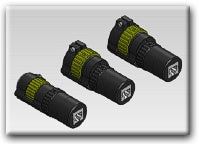 Description
QuickSync FT - the best of both worlds...
Optec has developed the FocusLynx FT system as an advanced multi-focuser control system. Expanding upon the TCF-Lynx development project, Optec engineers designed the ingenious QuickSync FT add-on motor assembly with an improved gear engagement system. The QuickSync motor, coupled with the FocusLynx Controller, provides an easy-to-install and operate digital focusing solution that retains the capability of manual focusing when at the telescope. Sold as the HSM (Handy Stepper Motor) through Starlight Instruments, the QuickSync FT is the best dual purpose motorized solution for both visual and imaging astronomers.
Read our FocusLynx FT Whitepaper for the philosophy behind the development of the FocusLynx FT system and a detailed description of the system.  Coupled with the FocusLynx controller, QuickSync can be used in both manual and automatic focusing modes.  Fully ASCOM compliant, Optec's FocusLynx Commander software works in conjunction with higher level client software such as FocusMax and Maxim D/L as well as CCDSoft and TheSky X to provide auto-focusing for a wide variety of manual focusers. 
Sold individually or in pre-packaged kit forms, there is a QuickSync motor and FocusLynx FT package to fit nearly any FeatherTouch focuser and pinion assembly available.. 
#19773 - QuickSync FT40 Motor for the FeatherTouch FTF3545 series focusers
The #19773 QuickSync FT40  motor with built-in clutch mechanism and temperature sensor allows both manual and motorized control with a simple twist of the motor housing.  QuickSync FT40 can be ordered separately or as part of the FocusLynx FT Kit. 
Designed especially for the FeatherTouch FTF3545 series manual focusers, the FT40 can also be used with several of the larger 4-inch Astro-Physics specific focuser.  Simple installation and elegant design with full compatibility to the FocusLynx Control Hub makes QuickSync the very best choice for motorizing a FeatherTouch.
Specifications
Compatiblity:
FeatherTouch FTF3545, FTF3515 focusers,
Astro-Physics AP27FOC3E, AP4FO3CE 2.7 and 4-inch focusers,.
Specifications:
Material:  6061 aluminum, anodized black with gold knob,
Length:  6.3" (160mm)
Width:  3.2" (81.4mm)
Weight: 6.4 oz (180 g)
Tools Required:  1/16" and 7/64" hex keys (included)
Motor Cable:    Standard Cat-5e or Cat-6 (6-ft. length included)
Connection to FocusLynx:  Focuser 1 or Focuser 2 port- RJ45 socket

Buy risk-free: When it's time to trade up you'll get the most value for your used gear.