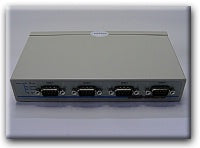 Description
The  EasySync USB2-H-1004-M Four Port USB-to-Serial Converter is a conversion box that allows connection of up to four serial devices to a computer via USB. Each port can be turned off with toggle switches for easy port selection. This device includes a +5VDC power connection (cable not included) for daisy chaining, but does not require external power to operate via direct connection to a computer's USB port. Includes a 12' USB cable and a standard rack-mounting plate.
Specifications
Overall Length 3.125" (79.4mm)
Overall Width: 6.25" (159mm)
Overall Height: 0.875" (22.2mm)
Weight: 12 oz (340 g)

Buy risk-free: When it's time to trade up you'll get the most value for your used gear.