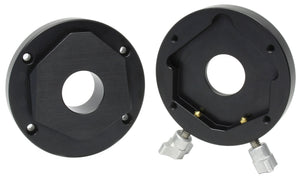 Description
The G11 RA Extension Kit is used to allow a Meridian Flip Through. This is aided by adding an 1.5" to the RA body and also raising the Saddle Plate by 0.6". With this kit the motors will not interfere when doing a Meridian Flip.
Gives you the ability to easily remove the DEC axis- This is useful when transporting the G11 to break down the G11 into lighter more manageable pieces.

Buy risk-free: When it's time to trade up you'll get the most value for your used gear.