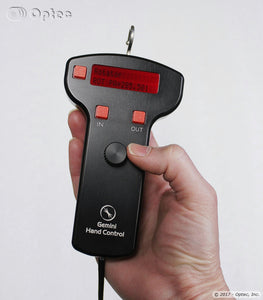 Description
The #19752 Gemini Hand Control provides an easy, vibration-free method of focusing the telescope when using the Gemini Focusing Rotator.  Featuring IN and OUT buttons, a 2-line display, and a rotary Fine Focus Knob, this Hand Control is a "must-have" option for any Gemini system where the operator may be present at the telescope. 
NEW!  The Gemini Hand Control now includes an  electronic Fine Focus Knob for greater control and tactile feedback while using eyepieces at the telescope.  An embedded rotary encoder switch allows one-hand fine focus control while using an eyepiece.  No need to move your eye away from the eyepiece - with this improvement the Gemini hand control provides simple, intuitive and precise control of the focus motor.
The Gemini Hand Control plugs into the  Hand Controller port on the bottom of the Gemini Control Hub using the included telephone handset cord.
Specifications
Material:  6061 aluminum, anodized black
Display:  2-line with Position and Temperature
Buttons:  IN, OUT, and MODE buttons
Focus/Rotation Control:  Rotary encoder with 1X, 10X, and 100X speeds
Communications:  SPI to Gemini Hub via MAX232 chip
Length:  6.3" (160mm)
Width:  3.2" (81.4mm)
Thickness: 0.9" (22.7mm)
Weight: 6.4 oz (180 g)
Mounting:  Stainless Steel hanging hook included
Connection to Gemini hub:  RJ22 plug labeled "Hand Controller"
Recommended Cable: Telephone Handset Cable (25-ft. and 6-ft. lengths included)
Firmware:  V1.1.0 upgradeable with replacement 28-pin PIC chip

Buy risk-free: When it's time to trade up you'll get the most value for your used gear.