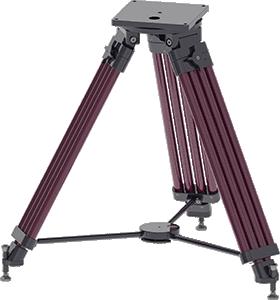 Features
Maximum payload capacity of 90 kg (200 lb.)

Allows eyepiece placement at a convenient height with a dynamic height range of 60 cm (24 in.) to 102 cm (40 in.)

The ultra-portable and lightweight design tips the scales at just 6.4 kg (14 lb.)

Simple and intelligent engineering permit the legs to be expanded or collapsed in seconds.

Intelligent overall design produces exceptional stability at all heights.

Flexible 360-degree azimuth adjustment for worry free setups and azimuth alignment.

Large range of coarse level adjusters can applicable to flat or sloping surfaces.

Fine adjusters to achieve optimal level.

Two built-in bubble levels for coarse leveling (with 10 arcminutes per one-tenth inch accuracy).

Swiveling feet can be fit with spikes to optimize coupling to software ground and are compatible with other commercially available tripod feet.
Specifications
Check out the Helium Tripod Specifications (PDF) document for details about this exciting new product.

Buy risk-free: When it's time to trade up you'll get the most value for your used gear.