Description
The AstroHutech Hinode Solar Guider is the first autoguider designed for casual solar viewing as well as photography. It does not require precise polar alignment, allowing for quick, convenient setup-and-go for public outreach or quick viewing with a grab-n-go solar scope and eliminates the tedium of keeping the sun centered over a long observing session.
For imaging, long-term autoguiding on the sun simplifies post-processing for projects such as time-lapse movies.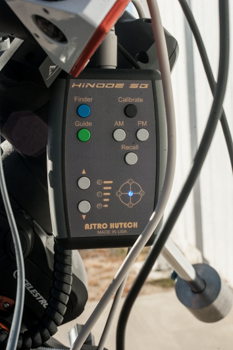 Features include:
Quick setup -- precise polar alignment is not required.
Built-in coarse finder makes lining up with the sun easy and safe.
Guides on the solar disk -- No requirements for sunspots to be used for tracking.
Optics, filter, and sensor are integrated in a single package along with guide electronics. No additional guide scope, filter, or computer required.
One-time easy calibration with no additional calibration necessary for a fixed setup. Just select AM or PM tracking.
No PC required. All functions are controlled through the attached hand controller.
Universal mounting block allows attachment to virtually any telescope. Compatible with conventional finder dovetail bases available in the market.
Audible cues and hand controller LEDs eliminate the need to exactly center the sun with an eyepiece or PC monitor.
5V DC operation via USB mini-B cable. When used with a PC no power supply is necessary
Compact and lightweight at 106mm x 67mm x 28mm, 270g, and compatible with a grab-n-go solar viewing setup.
User-friendly PC interface, including

 

upgradeable firmware.
NEW

 

-

 

Windows PC Software for monitor and control

 

of the Hinode Guider
Compatible with any mount with ST-4 / Losmandy-type autoguider input port.
Made in USA.
The Hinode Solar Guider is supplied with these components -- optics/electronics assembly box, hand-controller, USB cable, hand-controller cable, autoguider cable, and choice of mounting base as pictured below:

Hinode Solar Guider review in Astronomy Technology Today magazine.
While guiding effectiveness is dependent on the entire telescope and mount system, plus external factors such as atmospheric effects, the Hinode guider can detect position errors on the order of 1 arc second with a lab light source, and the smallest correction it will make is 100ms (programmed into firmware with typical mount electronic and mechanical limitations in mind). This corresponds to 1.5 arcseconds at 1x guide rate (correction speed at 1x sidereal drift) and .75 arcseconds at 0.5x guide rate.

Buy risk-free: When it's time to trade up you'll get the most value for your used gear.