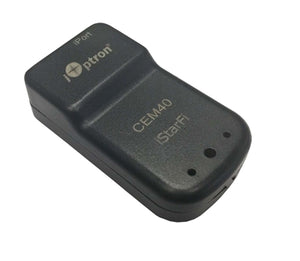 Introducing iOptron iStarFi(TM) Wi-Fi Telescope Adapter
Now you can convert your CEM40/GEM45 mount into a wirelessly controllable one with this new the new iStarFiTM Wi-Fi adapter! With iOptron's StarFi you'll be wirelessly connected. You can wirelessly control your telescope mount with your favorite planetarium software through iOptron ASCOM driver and Commander. You can also connect the mount to your SmartPhone/Tablet to use software like Sky Safari to control your mount.

iStarFi only support CEM40 and GEM45 series mount.



Features
Supports 802.11b/g/n
Can be constructed as AP (default) or STAtion mode
Password protection
Connect to Computer/Tablet/SmartPhone
Supports both iOS and Android mobile devices through WIFI connection
Allow you to use your favorite planetarium software to control the mount via iOptron ASCOM connection
Support Sky Safari Pro for both iOS and Android


Package Contents:

iStarFiTM Wi-Fi adapter
Online Instruction Manual




Buy risk-free: When it's time to trade up you'll get the most value for your used gear.