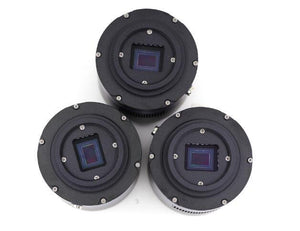 In light of Covid-19 social distancing requirements, our classes are going online!

Before your class, you'll receive a link to a Zoom meeting that you can join from your phone, computer, or tablet.

Receive a $20 discount code when you attend one of our classes. Your code will be delivered via email after you participate in the class.
If you reserve a spot and are unable to attend, the cost can be refunded so long as you give us 48-hour advance notice of your cancellation.

NOTE: A minimum of 4 people are required for the class to be held. If we don't achieve the minimum, customers will be contacted regarding rescheduling and refunds.

All classes are at 6:30pm online via Zoom.
June 3, 2020 - How To Choose an Astro Camera
Instructor: Matt Dahl

Come learn what to look for when selecting an astro camera. Learn what parameters are important to consider and how to optimize your camera selection to make the most out of your photographic rig.

Buy risk-free: When it's time to trade up you'll get the most value for your used gear.