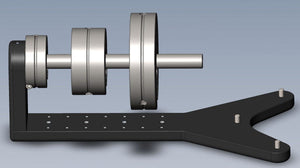 Description
Add to the versatility of your L-500/L-600 mount with this external Right Ascension axis balance accessory.
Balance of the mount is important for optimal direct drive motor performance and with this accessory users have the ability to fine tune the adjustments.
The accessory includes one 2, 5, and 10 lb weights.

Buy risk-free: When it's time to trade up you'll get the most value for your used gear.