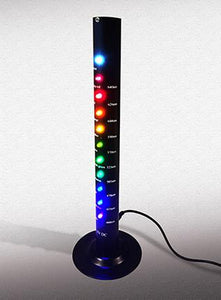 Description
This device is perfect for classroom use to demonstrate the properties of light and spectroscopy with our RSpec Explorer spectrometer.
The tower has the colors in ROYGBIV order, with a single white LED at the top. A rotary switch on the top allows you to select one color at a time, or all lights simultaneously.
The LED Tower comes with a small 110-220v wall mounted power supply with a standard 2-prong US plug.

Buy risk-free: When it's time to trade up you'll get the most value for your used gear.