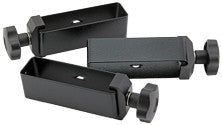 Description
This Leg Clamp Set can be added if your Berlebach Planet Tripod is a model with the single leg clamp.  It will provide additional strength and safety for your equipment. 
Clamp installation requires disassembling the tripod and drilling two small holes and a 12-15 mm flat-bottom hole in each leg.  Having tool working experience will ease your tripod clamp upgrade process.

Buy risk-free: When it's time to trade up you'll get the most value for your used gear.