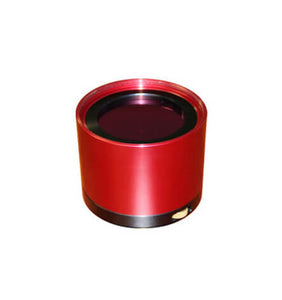 Description
The Lunt LS60FHa is a 60 mm aperture (no central obstruction) integrally tuned etalon for use on a customer supplied refractor.
A B600 blocking filter provides full disk images on telescopes up to 540 mm focal length. Larger blocking filters suitable for longer focal length telescopes are also available options.  Choose the filter/blocking filter package that is suitable for your telescope and your focuser size:
B600 – Up to 540 mm focal length, offered in 1.25″ or 2″ diagonal
B1200 – Up to 1080 mm focal length, offered in 1.25″ or 2″ diagonal
B1800 – Up to 1620 mm focal length, offered in 1.25″ or 2″ diagonal
B3400 – Up to 3060 mm focal length, offered in 2″ straight-through tube
This Hydrogen-alpha filter is designed to retrofit (adapters required) a customer-supplied telescope for use during the day. It is easily removable so that the scope can continue to be used for night observing.
Because the LS60FHa has an estimated bandpass of <0.70 Angstrom, it is capable of providing high contrast views of both surface and edge detail. Adding an additional etalon system (double-stacking) will reduce the bandpass to ~<0.50 (dependent upon scope) allowing for higher resolution viewing and/or imaging. An LS60FHa without blocking filter is offered for this purpose or for those who already have a Lunt blocking filter. A Lunt blocking filter must be used with Lunt Ha filters at all times.
LS60FHa Specifications: (single filter)
Optical Aperture: 60 mm
Etalon: Internal <0.70 Angstrom
Tuning: Tilt
Focal Length: Customer Telescope
Storage: Aluminum finished hard case with fitted foam
Weight: 3 lb (~1.5 kg)

Buy risk-free: When it's time to trade up you'll get the most value for your used gear.