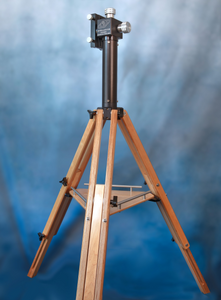 Description
This is the new Denali 2 tripod made to use with our top rated, M002C mount head and MEC column. 
We use ApplePly®, the most exquisite and expensive plywood on the market, as the ultimate material for stability and beauty. Once the wooden parts are machined to size, we apply three coats of marine spar varnish to protect the wood from the elements. Valued for its virtually solid hardwood core and the attractive edge appearance of thin, uniform innerplies, ApplePly® has won a following from architects and architectural woodworkers, furniture and fixture designers, case good manufacturers, and professional and amateur woodworkers alike. The tray is also made of 3/8" ApplePly®. 
The Denali tripod weighs about 16 pounds. It is made of States Industries ApplePly®, stainless steel, and anodized aluminum. Spring-loaded leg adjusters apply pressure with two knobs per leg. Simply loosen the knobs and extend the leg to the desired height. The tripod stands about 32" to 41" depending on how it is adjusted. Note that the column and M002C mount add about 13 1/2" to the center height. So when the telescope is pointed horizontally, its center will be between 45.5" and 54.5" high.
New Stablelock Tray: Combining dense Appleply with a rock-solid design makes a big difference when comparing Stellarvue tripods to others. The newest tray Attaches to the tripod securely with three knobs that have captive, threaded studs. Merely bring the tripod up from the bottom to attach the threaded studs to the precision machined tripod leg brackets. Thread each in place. Your tripod is now one solidly, bolted-together tripod that will hold Stellarvue telescopes up to the SVX127D using the Stellarvue M002C mount and column. We do not recommend this setup for our larger telescopes. A new mount and larger tripod is in the works for our big telescopes!
This tripod is sent fully assembled and tested. All you need to do is attach the tray, column and M002C mount head. 

Buy risk-free: When it's time to trade up you'll get the most value for your used gear.