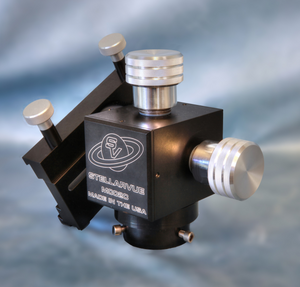 Description
M002C Mount - The Video!

 
Click here for our video manual: 
Video Manual
M002C Mount Operator's Manual - Click here for our online manual: M002C 
Several years ago, we redesigned our M002 mount into a more advanced M002C mount. This newer version uses larger shafts and a stainless roller bearing, making it even smoother than before. 
The M002C mounts directly to large camera tripods with a standard 3/8"-16 threaded hole, or it mounts to a number of tripods using one of our optional rock-solid MEC columns. Mount the column to a tripod, and the M002C mount drops into the column. Secure the mount head to the column with three set screws and you have an impressive, heavy duty, ultra-smooth alt-azimuth mount.
The M002C mount head with combination Losmandy and Vixen shoe weighs 6 pounds. 
We manufacture this mount here in America using stainless steel and aluminum. It is machined and assembled in our CNC metal shop so it is extremely precise. The smoothness makes slow motion controls unnecessary, so they are not included. Simply set the knobs for minimum drag and glide around the night sky. The M002C is a pleasure to use.
In order to use the M002C mount with our tripods, the MEC style column is required. Our latest version of our Denali Tripod (The Denali 2) has a column base. So order the MEC column only for use with the Denali 2 tripod. Save money when you order the M002C mount, the MEC column and our new Denali 2 tripod together as a complete system (M002CW).
If you want to use the M002C with the former Denali tripod (without the column base) use the MEC003 column. This column has a standard 3/8-16 threaded hole so it will work with many heavy duty camera tripods. If you are using a Surveyor's tripod (with 5/8-11 attachment bolt), use the MEC002 column. If you will use a Celestron AVX/CG5/Vixen type tripod, use the MEC010 column which has a 10 mm attachment bolt. This is the most common bolt size for Chinese tripods. Larger import tripods such as the CGEM tripod and our TSS stainless tripod work with the MEC012 column which has a 12 mm threaded hole. 
This latest version of the M002 uses smooth 3" over-sized bearings on each axis. The tension is adjusted on both axis with over-sized knurled knobs. Once the tension is set, it is easy to glide from object to object without the need for slow motion controls. The mount will hold our 70 mm - 115 mm telescopes. The M002C mounted to our stainless steel tripod will hold our SVX130T and other scopes, up to about 25 pounds. The mount head itself weighs about 4 pounds and comes standard with our TDLV spring-loaded shoe to accommodate both Vixen and Losmandy rails. If using a Losmandy style rail, we recommend using a safety screw with washers or a spacer so it will not slide through the shoe when the knobs are loosened.
Encoders: The JMI encoder system made for the older M002 mount does not currently work with this redesigned mount. If you are interested in a complete encoder system for this mount head, we recommend the Nexus encoder kit for the M002C by Astro-Devices. 

Buy risk-free: When it's time to trade up you'll get the most value for your used gear.