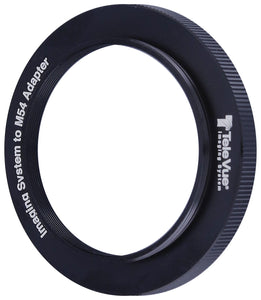 Introducing the M54 Camera Adapter for Tele Vue Imaging System

The M54 thread is becoming popular on full-frame, dedicated astro-imaging cameras and filter wheels/holders. Our new M54 camera adapter has male M54 x 0.75mm threads on one side and our Imaging System female threads on the other. This allows for easy integration of your M54 compatible hardware with our Imaging System accessories and Nagler-Petzval "is" telescopes.
The M54-1073 can also be combined with non-Imaging System scopes of any brand by using a Tele Vue Imaging System Nosepiece for 2" Focuser (RAD-1074). The RAD-1074 slides into a 2" telescope drawtube and has a 2.4" Imaging System thread on the other side to accept any Imaging System accessory.

Buy risk-free: When it's time to trade up you'll get the most value for your used gear.