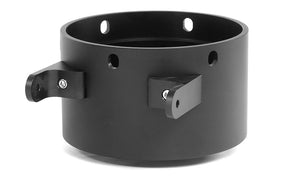 Description
FHD / Meade field tripod adapter (LARGE)

7" diameter

4.0" high.

Inside machined to fit HGM Titan, HGM 200 and GM 200 mounts.

Tube has 1/2" thick bottom with 1/2" hole in center and hole pattern to mount on Large Meade Field Tripod.

Posts for the electronics are mounted on the side.

Also used on top of permanent piers.

Buy risk-free: When it's time to trade up you'll get the most value for your used gear.