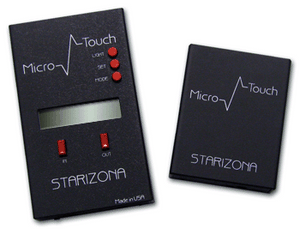 Description
The MicroTouch Autofocuser is designed to work with the popular Feathertouch line of focusers from Starlight Instruments. The MicroTouch allows autofocusing of a CCD camera when interfaced with a computer (via USB). Included features also include Temperature Compensation, Digital Readout, and Manual Operation. The MicroTouch works with both regular Feathertouch (Crayford-style or rack-and-pinion) focusers and the Feathertouch SCT MicroFocusers.
Features
Automatic focus with ASCOM-compatible software (FocusMax, MaxIm DL, ImagesPlus, etc)*
Temperature compensation using built-in thermistor
All electronics in hand-controller box and wireless receiver -- no separate hub or extra cables
Manual control with hand-controller box for use visually or with video cameras/webcams
MicroTouch software for configuring system and remote manual operation
* Note: Autofocusing with FocusMax requires MaxIm DL or CCDSoft for camera control interface.
Included Items
MicroTouch Hand Controller with Digital Readout
Stepper Motor Unit*
Motor Cable
USB 2.0 Cable
Power Supply (choose AC and/or DC when ordering)
CD-ROM: MicroTouch control software, hardware drivers, ASCOM Platform, FocusMax software, and operating instructions
Please specify if you would like AC or DC power
The MicroTouch Autofocuser is ASCOM compatible.
* Included motor fits 2" Feathertouch Crayford focusers and Feathertouch SCT MicroFocusers (except old-style C14). For the old-style C14 MicroFocuser, choose the 2.0" original-style motor. Other motor options are available for Feathertouch 2.5", 3.0" and 3.5" focusers; direct-drive motors for Feathertouch 3.5" and TEC focusers; Skywatcher refractors; Stellarvue standard focusers; and Takahashi FSQ refractors. Choose the motor below.

Buy risk-free: When it's time to trade up you'll get the most value for your used gear.