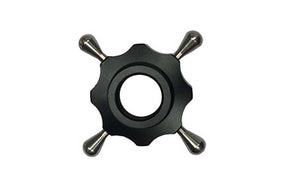 Description
Designed for iOptron AZ Mount Pro, this Altitude Locking Knob upgrade kit can be used to replace the original knob of a iOptron MiniTower Pro/MiniTower II. The locking knob with levers will make the altitude knob easy to tighten, especially during the winter time.

The kit includes:
Altitude locking knob with threaded holes X1
Lock lever X 4

The kit does NOT fit onto original MiniTower.

Buy risk-free: When it's time to trade up you'll get the most value for your used gear.