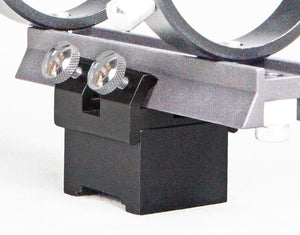 Description
This is the two part mounting base/dovetail shoe for our R050ET and R080ET ring systems. This mounting base/dovetail shoe mounts to the top of any Stellarvue hinged ring. The shoe is made for the standard Stellarvue (Synta, Orion) finderscope dovetail rail. This rail is about 1 3/16" wide at the bottom (widest point). This dovetail shoe is made for the rail that comes with our current model rings: R050AT, R080AT, R050ET, R080ET, R050ST, R080ST.
Please note, this shoe is not made for our former finderscope rail which was smaller in size. That rail was about 7/8" wide on the bottom (widest point). This part IS NOT made for these former, narrower rails.
Check the dimensions of the shoe on the drawing below and compare with your dovetail rail to see if it will fit.

Buy risk-free: When it's time to trade up you'll get the most value for your used gear.