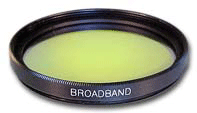 Enhance your deep sky viewing with the latest in multi-layer coating technology. Thousand Oaks filters transmit desired wavelengths in a very steep slope vs. gentle transition slopes in competitive brands. These steep slopes mean better contrast and overall performance.
The MV Filter is designed to reduce violet color fringing.  Only available in 1.25".

Buy risk-free: When it's time to trade up you'll get the most value for your used gear.