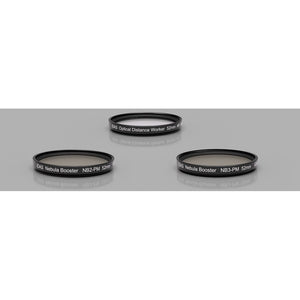 Description
Now the #3 booster engine is ignited. IDAS has set the new industry standard for OSC imaging. Following NB2, now NB3 is commercially available too. NB3 passes OIII and SII unlike NB2 (= OIII & Ha). These are dual-band filters while NB1 is tri-band. Followings are illustrated when each is used with NGS1 as a base filter. (As long as the filter blocks NIR, any can be used as a base filter. But there are some restrictions.)
What we can do with OSC camera is
Ha : R (NB2)
SII : R (NB3)
OIII : B+G (NB2) & B+G (NB3)
This allows to boost OIII efficiently.
Following double filter-box kit is optimized for the stacked IDAS filters glass thickness. Total light path turns 60.0mm once two filters are set.
To take the regular broadband color image, switch to ODW(clear) filter. NB2, NB3 and ODW are all par-focal.
Moreover, if NB2 or NB3 is set in front of RGB filter wheel(if technically possible), we can take a single emission signal individually with a monochrome camera.
Ha : NB2 with red filter
SII : NB3 with red
OIII : NB2 or 3 with green
Then, you can enjoy single narrowband imaging with an affordable cost in its size (52mm) to create several color mixing methods.
Probably there is a plenty of room for an additional filter in an optical train. I just roughly calculated the light path in case of ZWO monochrome camera and CFW.
ASI1600M+CFW(26.5mm) + 7522(5mm) + BORG filter box (15mm) = 46.5mm
After correcting filter thickness, it turns 44.78mm. Probably short enough for most optical system.

Buy risk-free: When it's time to trade up you'll get the most value for your used gear.