Nyx, the ancient Greek goddess of the night, enlightened us to design and produce a high-performing, high payload mount that can easily carry imaging equipment up to 20Kg without needing a counterweight or shaft.
Strain wave drive on RA and DEC movement ensures a backlash-free operation with high torque at high payloads. A fully CNC machined aluminum alloy 6061 body, black and blue anodized, and a selection of branded parts (stepper motors, strain wave gear) inside the mount, ensure that Nyx-101 will perform flawlessly for many years. Mount includes an electronic brake on the RA axis to prevent backsliding when power is off as well as safety limit stops during slew or tracking.
Description
High Precision Strain Wave Gears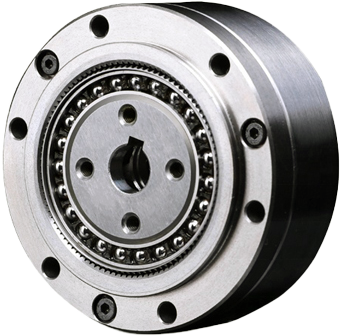 Harmonic Gears on Both Axis ensure high payload and a smooth, backlash-free operation.
A hybrid stepper motor, belt system along with sophisticated electronics can drive RA axis down to 0.10 arcsecs of resolution.
Reduction on RA axis is 500:1 and 300:1 on DEC axis.
Supporting High Imaging Loads
Counterweights are not required for weights up to 20Kg.
(counterweights can be installed for higher photographic loads – compatibility with M12 shaft)
Lightweight Design
Lightweight Design, based on the weight payload the mount can lift.
CNC machined aluminum alloy AL6061 used for aircraft makes the mount an excellent choice for your setup.
Mount weights 6.4 Kg.

From a small refractor to a fully loaded SCT 11-inch telescope, NYX-101 can easily handle the payload.
Equatorial or Altazimuth Mode
Mount can be used as a German Equatorial mount or as an ALT/AZ, more suitable for visual observations. The mode can be switched from our mobile application
Built-in Wireless and USB Control
NYX-101 support Wi-Fi out of the box including USB2 connectivity. Both technologies can work simultaneously. Mount is compatible with LX200 protocol and Sky Safari for mobile interaction
Power Off Brake
A safety power-off brake is Installed on the RA Axis and provides an instant safe stop during a planned or unplanned power interruption.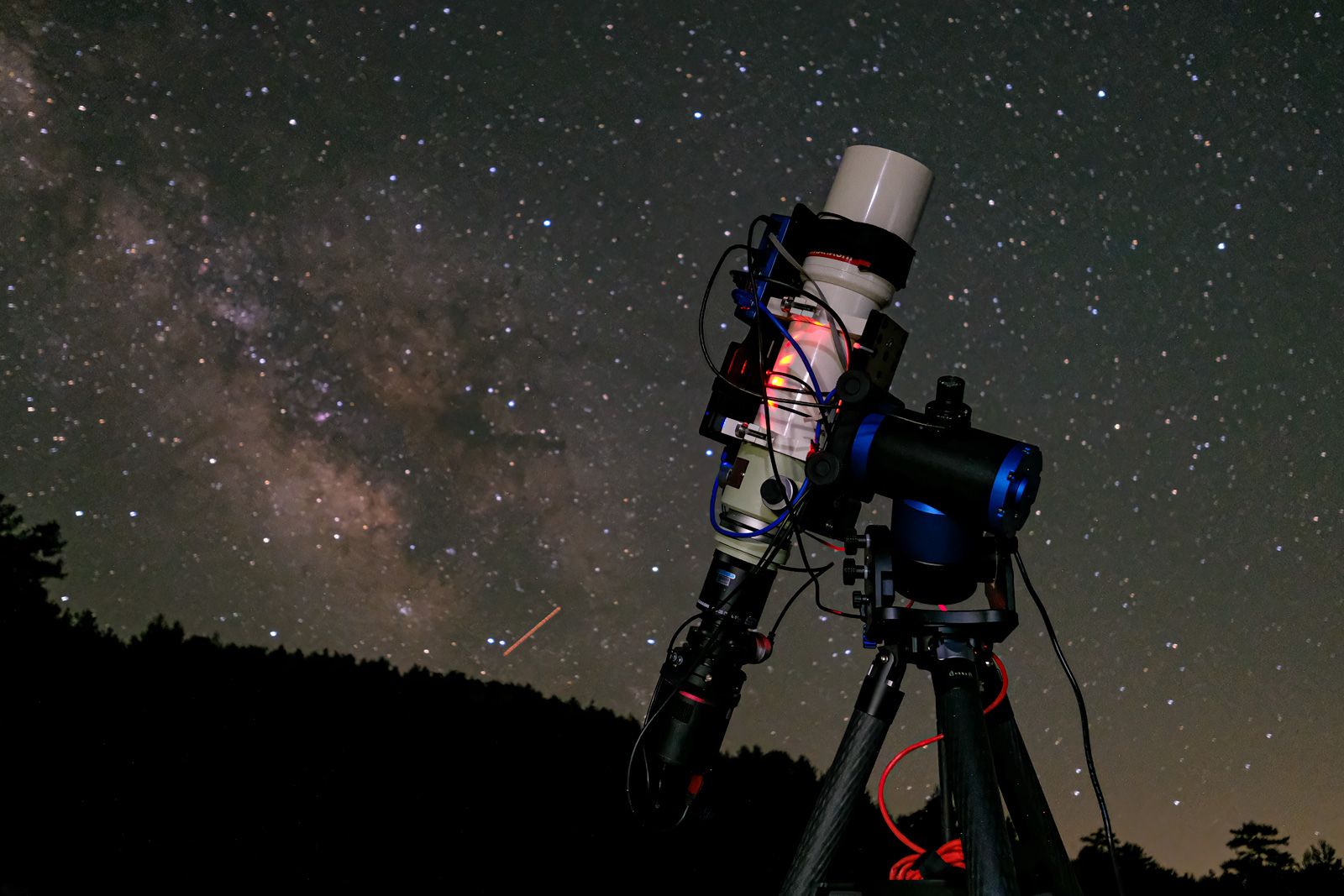 Additional Key Features
DC 12 Volts Battery Operation: NYX-101 requires 12V only for its smooth operation. This means that you can use your normal 12V battery without any additional converters. Mount consumes less than 0.6Amp during tracking and up to 2.5 Amps during slewing.
Secure power and USB: The power cable is a GX12 type with can securely lock onto the mount. USB type B special socket ensures a secure grip. Both of these sockets are placed on the non-movable part of the mount. No cables moving during slews and tracking. A 2nd GX12 allows you to provide power to your imaging equipment.
Refraction Corrections: NYX-101 integrates a barometric sensor required to calculate atmospheric, refraction corrections during mount tracking. For smaller focal lengths this is might be overkill but if you have an SCT you will notice a welcome change in your guiding performance.
Universal Saddle Plate: NYX-101 includes a low profile and rigid universal Saddle that accepts Vixen and Losmandy 3-ich dovetails.
Integrated ST-4 Autoguiding Port: An ST-4 port is available at the back of the mount. Suitable for a simple hand controller or for your ST-4 guiding camera.
Polemaster Adapter: In the front of the mount, there is a place for the QHY Polemaster (adapter included), which allows you to perform a precise polar alignment, required for your imaging sessions.
Electronic assistant for initial polar alignment: A set of sensors allows you to orient the mount at the correct altitude and azimuth in order to have an initial, rough, polar alignment (for lower focal lengths such as camera lenses or visual observations ). Our mobile application guides you through that process.
Reverse Voltage Polarity Protection: NYX-101 has been designed with reverse voltage polarity protection. A saver if you accidentally reverse battery polarity during the night.
Optional Counterweight support: Mount does not require counterweights for payload up to 20Kg. However, if you would like to install counterweights for higher payloads there is a compatible M12 threaded shaft hole at the end of the DEC axis.
ASCOM, INDI, Sky Safari Support: The mount fully supports ASCOM 6 and INDI framework. Sky Safari is also supported allowing you to control the mount through your mobile device.
LX200 Compatibility: LX200 protocol is fully compatible with NYX-101
Mobile Control: A mobile application for IOS and Android platforms allows you to control both axis of the mount, slew to installed catalogs of thousands of night sky targets and do a rough polar alignment through an electronic polar assistant.
Safety limits on RA axis: Safety limit encoders on RA Axis prevent internal cable snag or collision with the tripod.
Firmware Upgrade: An easy firmware upgrade process allows you to stay up to date with bug fixes and the latest features of the mount.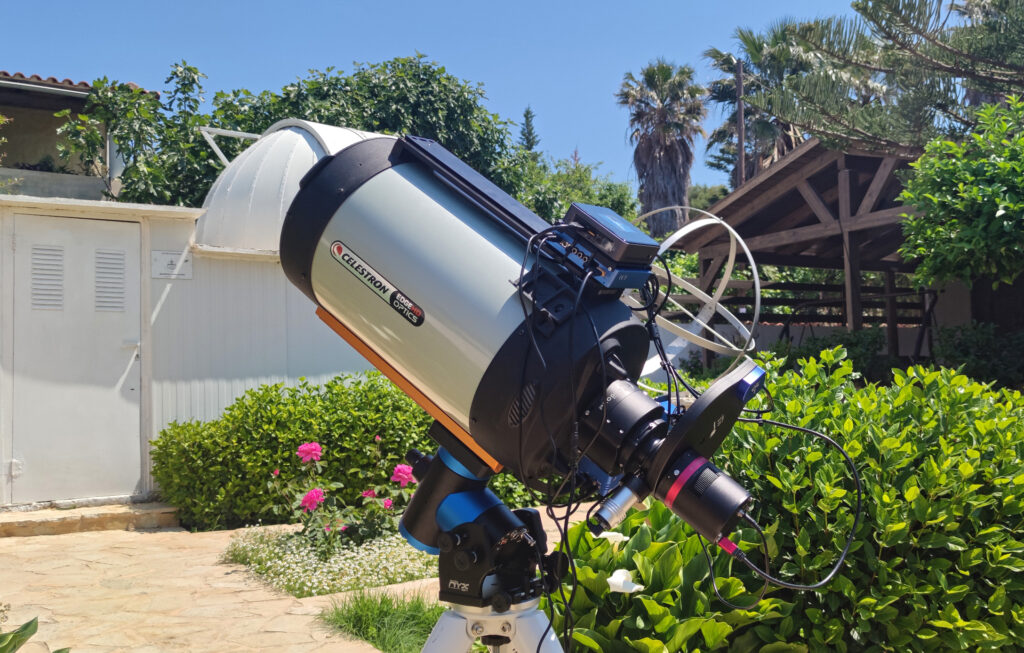 Optional Accessories
We offer an optional rigid and lightweight carbon fiber tripod. We strongly suggest using this tripod with equipment up to 12Kg.
We offer an optional adapter in order to use the "classic" Skywatcher's EQ6 tripod. Suitable for heavier loads such as an SCT-11" telescope
A Pier Extension (+20cm) adapter is available
Specifications
Material
CNC machined 6061  aircraft aluminum alloy
Mount Mode
Equatorial or Altazimuth
Mount Drive
Strain Wave (Harmonic) Gear and Belt resulting reduction 500:1 (RA) and 300:1 (DEC)
Load Capacity
20 Kg without counterweights
30 Kg with counterweights
Weight
6.5 Kg
Safety / Power Off Brake
On RA Axis
Dovetail
Vixen and Losmandy 3-inch
RA Motor Resolution
0.10"
Max Slew
5.5 degs/sec
Power Voltage
12V DC unregulated
0.7A during tracking, 2Amps during slewing
Guide Port
ST4
Counterweight Shaft
M12 Shaft
Communication
Wireless 802.11g and USB2
Operating Temperature
-20° to + 50°C
Warranty
2-year limited
Made in (designed, assembled and tested)
Greece

Buy risk-free: When it's time to trade up you'll get the most value for your used gear.