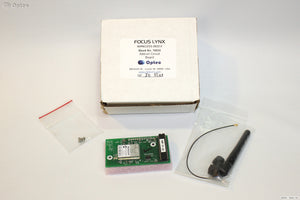 Description
Designed for FocusLynx and Gemini control circuits
The FocusLynx and Gemini Control Hubs include a wired Ethernet connection and interface as standard.  However, many users prefer to use wireless Ethernet with their telescope setups.  The Optec WiFi wireless networking option eliminates the need for any communication wires to the control PC or tablet.  Taking advantage of the 802.11b/g  networking standard, the Optec WiFi option allows true wireless networking connectivity.

With the WiFi Option in place, an Ad-Hoc network is created by the wireless module that allows easy communication and integration into any existing 802.11b/g wireless network.  Control of the FocusLynx hub can be accomplished through Optec's iPhone or Android OS apps using the built-in wireless web pages allowing the user to focus through most any smartphone.  Concurrent communications ensure FocusLynx or Gemini Commander software, ASCOM client software, connected hand controllers, and smartphone are all updated simultaneously. 
The #19755 FocusLynx WiFi Option can be added to any existing FocusLynx or Gemini system at any time.  Contact Optec Technical Support with questions or for assistance with your configuration.
 Watch the video below and order today!
Specifications
WiFi Module:    Microchip MRF24WG0MB
WiFi Type:  IEEE 802.11b/g 2.4GHz RF Transceiver
Network Compatibility:    802.11b/g Networks
Antenna:    Integrated and external type MRF24WB0MB included
Temperature Range:    -40°C to +85°C
Network Protocols:    SoftAP, WEP, WPA-PSK, WPA-2-PSK supported
Range: up to 400m (1300 ft.)  [long-range antenna available]
Package includes: 
802.11b/g wireless add-on board,
external antenna kit,
Two 4-40 x 0.25" pan head mounting screws,
3/32" allen key.
Compatibility:
Optec FocusLynx controller,
Optec Gemini controller,
Starlight Instruments FocusBoss II controller.

Buy risk-free: When it's time to trade up you'll get the most value for your used gear.