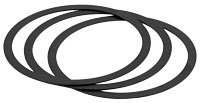 In most imaging setups it will not be necessary to modify the spacing distance.  However, there may be some sensor/camera combinations that can benefit by making slight changes to this spacing.  
A set of three 1 mm thick spacer rings is being offered that can be used in special circumstances to modify the backfocus spacing of the Telecompressor Corrector.
One can increase the spacing by adding one, two or three spacer rings to the rear threads of the Telecompressor Corrector.  Reducing the distance is done by switching to a shorter Backfocus Spacer (22.1 mm, 18.3 mm, 17 mm and 16 mm are available).  Adding rings to the 18.3 mm adapter will make the differences toward the 22.1 mm adapter. 
These rings are designed to slip over the 3.270" thread of the Telecompressor Correctors and CCD Field Flatteners.

Buy risk-free: When it's time to trade up you'll get the most value for your used gear.