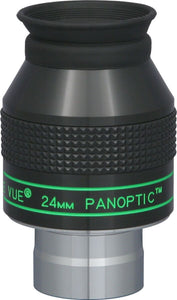 Our Take
Totally awesome in binoviewers!
Description
This Sky & Telescope "Hot Product" is designed to produce the largest true field possible in a 1¼" eyepiece. (Its 27mm field stop is the same as the 32mm Tele Vue Plössl). The higher power darkens the sky background while the greater magnification yields more details on extended objects. Further, its light weight (1/2 lb.), comfortable 15mm eye relief, and tapered top instantly make the 24mm Panoptic the ideal eyepiece for getting the maximum field for binocular viewers.
The Televue Wide-Field design was the starting point for the design of the Panoptic. A lens interface between the eyepiece and Barlow lens was added as a way to keep size, weight, and cost to a minimum while improving edge of field performance even further.
Standard on all Panoptics
multi-coatings
blackened lens edges
filter threads
rubber grip rings
cover for the eyeguard
an undercut in the barrel for extra locking security
Specifications 
24-mm
Model #
EPO-24.0
Focal Length (mm)
24
Barrel Size (in.)
1¼"
Apparent Field of View (deg.)
68
Eye Relief (mm)
15
Weight (lb / oz)
0.51 / 8.2
Field Stop (mm)
27

Buy risk-free: When it's time to trade up you'll get the most value for your used gear.