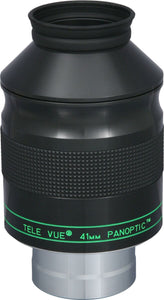 Description
The 41mm Panoptic eyepiece is a big brother to the 24mm Panoptic (largest 1.25" field). With its 46mm field stop, the 41mm Panoptic delivers the largest 2" field possible. An adjustable and removable screw-type top allows quick, comfortable eye positioning. The scalloped shape gives a positive grip.
The Televue Wide-Field design was the starting point for the design of the Panoptic. A lens interface between the eyepiece and Barlow lens was added as a way to keep size, weight, and cost to a minimum while improving edge of field performance even further.
Standard on all Panoptics
multi-coatings
blackened lens edges
filter threads
rubber grip rings
cover for the eyeguard
an undercut in the barrel for extra locking security
Specifications
41-mm
Model #
EPO-41.0
Focal Length (mm)
41
Barrel Size (in.)
2"
Apparent Field of View (deg.)
68
Eye Relief (mm)
27
Weight (lb / oz)
2.10 / 33.6
Field Stop (mm)
46

Buy risk-free: When it's time to trade up you'll get the most value for your used gear.