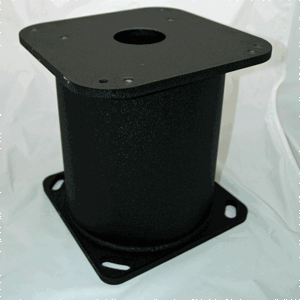 Description
The Software Bisque Permanent Pier is available in heights ranging from 12 in (30.5 cm) to 48 in (122 cm).   All Software Bisque permanent piers shipped after January 1, 2011 can accept Paramount ME, Paramount ME II, Paramount MX and Paramount MX+ model mounts. 
Software Bisque generally stocks the following pier heights:
12 in (30.5 cm)
24 in  (61 cm)
30 in (76 cm)
36 in (91 cm)
48 in (122 cm) 
Custom height piers are manufactured upon request (please call), and receipt of non-refundable payment in full.  Please allow 10-12 weeks for delivery.
Paramount ME II/ME/MX/MX+ Pier Technical Drawing

Buy risk-free: When it's time to trade up you'll get the most value for your used gear.